Welcome to the new Dark Mode! If you'd like to browse in Light Mode, head over to your
Appearance page
while logged in and select
Hydra
.
The Town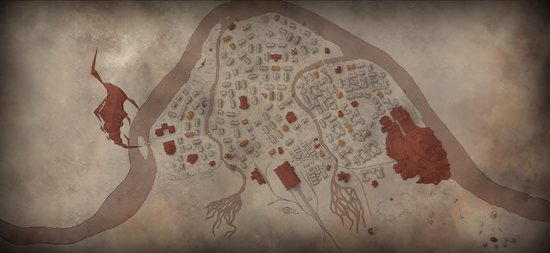 "
This is a game about boundaries. Humans transcending their own limitations, and the metamorphoses that may await them on that journey: a blood cell or an udurgh, a doll or a living creature, a slave to the circumstances or the setter of new laws.

Our town is a unique example of a utopia made real. It's the cornerstone, the foundation of the game's entire conflict: "a cataclysm has befallen the worthiest".
"
— Pathologic 2 artbook

The Town (Город) is a small, remote settlement, lost in the Eastern steppe. It developed from the Bull Enterprise—the town's meat-making industry, owned and operated by the Olgimskys. Unique and isolated, the Town combines various eras of history and all aspects of humanity. According to Vlad the Younger the town's population in Pathologic 2 is approximately seventeen-thousand people, thirty percent of which live in the Termitary and work for the Bull Enterprise. [1] The Town's population is comprised of both Townsfolk and Kinsfolk.
Due to it's remote location the Town relies heavily upon supplies from outside sources in order to survive. In exchange for the meat produced by the Bull Enterprise the Town receives shipments of things that cannot be found in the Town such as sugar and medicine. These supplies arrive in the Town through the Train Station. A few months before the outbreak the shipment of supplies stopped, sending the Town into a deficit for a number of items. The relationship between the Town and the outside world is often compared to the relationship between a mother and a child, connected by an umbilical cord - the Station.
The Town is home to a number of remarkable people - such as the Stamatin brothers - because Simon Kain brought them into the Town. He wished to collect brilliant specimens and turned the Town into an Ark in doing so.
The Districts
The Town is divided into three areas by two tributaries of the Gorkhon river—the Guzzle and the Gullet. Each quarter has its own name and is divided into several districts.
Earth Quarter
This is the eastern part of town, by the Guzzle.
Knots Quarter
This is the middle part of town, between the Guzzle and the Gullet.
Stone Yard Quarter
This is the western part of town, by the Gullet.
===The Steppe=== ("Has a thousand eyes")
Traditions and Superstitions
Screenshots
Official Art
Concept Art
Paintings
The following are paintings featured in various homes in the Town in Pathologic.
The following are paintings featured in various homes in the Town in Pathologic 2.
Maps
Notes
References