Welcome to the new Dark Mode! If you'd like to browse in Light Mode, head over to your
Appearance page
while logged in and select
Hydra
.
Pathologic Wiki/Section 3
Featured Article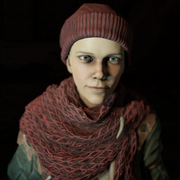 Clara — also known as the Changeling — is a mysterious young girl who claims to know how to create miracles.
It is unclear where exactly Clara came from. She appears to many as a thief, slipping in and out of places with ease. This is to be due to her self proclaimed sainthood, as she is said to be able to open any door as easily as she would cure the sick. Some claim she is something more sinister - that she is the Sand Plague itself, walking around on borrowed feet. To many it appears as if there are two girls who call themselves Clara as she often appears in two places at once, or moves much too quickly for one lone girl. Read more.